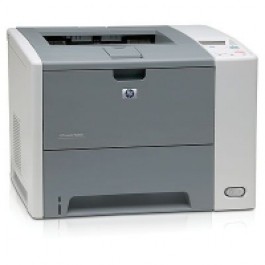 Specificaties

Printtechnologie
Kleur:
Nee
Maximale resolutie:
1200 x 1200 DPI
Gebruiksindicatie (maximaal):
100000 pagina's per maand
Aantal printcartridges:
1
Zuinig printen:
Ja

Printsnelheid
Printsnelheid (zwart, standaardkwaliteit, A4/US Letter):
33 ppm
Tijdsduur tot de eerste pagina (zwart, normaal):
9,5 s

Invoercapaciteit
Standaard invoercapaciteit:
600 vel
Maximum invoercapaciteit:
1100 vel

Uitvoercapaciteit
Standaard uitvoercapaciteit:
250 vel
Maximale uitvoercapaciteit:
250 vel

Papier
Ondersteunde mediatypen:
Paper (bond, colour, letterhead, plain, preprinted, prepunched, recycled, rough), envelopes, labels, cardstock, transparencies, user-defined
Mediaformaten (lade 1):
A4, A5, B5 (JIS), envelopes, letter, legal, executive, 76 x 127 - 216 x 356 mm
Mediagewicht lade 1:
60 - 200 g/m?

Netwerk
Netwerkgereed:
Ja
Ondersteunde network protocollen (IPv4):
TCP/IP, IPX/SPX, AppleTalk, DLC/LLC, IP Direct Mode, LPD2, FTP Printing (may require software from the NOS or third-party vendor), IPP2, Netware NDS, Bindery, NDPS, iPrint, Telnet, SLP, IGMP, BOOTP/DHCP, WINS, SNMP, HTTP, Auto-IP, Apple Bonjour Compatible (Mac OS X 10.2.4 and higher)

Geheugen
Intern geheugen:
80 MB
Maximaal intern geheugen:
320 MB

Energie
Stroomverbruik (PowerSave):
9 W
Stroomverbruik (indien uit):
0,2 W

Certificaten
Energy Star-certificaat:
Nee

Prestatie
Type processor:
Ja
Processormodel:
Motorola ColdFire V5
Frequentie van processor:
400 MHz

Eisen aan de omgeving
Temperatuur, in bedrijf:
15 - 32,5 ?C
Temperatuur bij opslag:
-20 - 40 ?C
Relatieve luchtvochtigheid, in bedrijf:
10 - 80 procent
Luchtvochtigheid bij opslag:
10 - 90 procent

Gewicht en omvang
Gewicht:
16,2 kg
Afmetingen (BxDxH):
425 x 410 x 310 mm
Gewicht verpakking:
20,3 kg
Afmetingen verpakking (BxDxH):
600 x 500 x 430 mm

Inhoud van de verpakking
Meegeleverde software:
Print drivers and installation software on CD-ROM; Microsoft Windows Installer; Macintosh Installer; HP PCL 5e, HP PCL 6 print drivers for Windows 2000, XP Home, XP Professional; HP postscript level 3 emulation for Windows 2000, XP Home, XP Professional

Overige specificaties
Mac-compatibiliteit:
Ja
Minimale systeemeisen:
Microsoft Windows 2000, XP Home, XP Professional: 1 GHz processor, 512 MB RAM (Windows VistaTM, check user guide for minimum hard drive space); 333 MHz processor, 64 MB RAM; Server 2003: 550 MHz processor, 128 MB RAM; 200 MB of available hard disk space
Printerbeheer:
HP Web Jetadmin, HP LaserJet Utility, HP Embedded Web Server, Easy Printer Care
Stroomvoorziening:
100 - 127V / 220 - 240V, 50/60 Hz (+/- 2 Hz)
Aantal per pallet:
20 stuk(s)
Elektromagnetische compatibiliteit:
CISPR 22: 1993+A1+A2/EN 55022: 1994+A1+A2 Class B, EN 61000-3-2: 2000, EN 61000-3-3: 1995+A1, EN 55024: 1998+A1+A2, FCC Title 47 CFR, Part 15 Class B (US), ICES-003, Issue 4 (Canada), GB9254-1998, GB17625.1-2003, EMC Directive 89/336/EEC with CE Marking (
Standaardinvoerladen:
2
Netwerkfuncties:
Ethernet, Fast Ethernet
Standaard uitvoercapaciteit voor transparanten:
75 vel
Veiligheid:
IEC 60950 (International), EN 60950 (EU), IEC 60825-1+A1+A2, UL/cUL Listed (US/Canada), GS License (Europe), EN 60825-1+A11+A2 Class 1, 21 CFR Ch. 1/SubCh. J (Class 1 Laser/LED Device) GB4943-2001, Low Voltage Directive 73/23/EEC with CE Marking (Europe)
Downloadbare software:
Windows Installer, HP PCL 5e driver, HP PCL 6 driver, HP postscript level 3 emulation driver, HP Web Jetadmin, Macintosh installer, Macintosh postscript driver, PostScript Printer Description (PPD) files, IBM drivers, OS/2 PCL 5 or PCL 6 printer driver, OS/2 PS printer driver, UNIX model scripts, Linux drivers, HP OpenVMS drivers
Compatibele besturingssystemen:
Windows 10, OS/2, UNIX, Linux, HP OpenVMS Windows 98 SE, 2000, Me, XP Home, XP Professional, Server 2003; Mac OS v10.2.8, 10.3.9, 10.4.3
Afmetingen van het product wanneer het open is (LxBxD):
42,4 cm (16.7")
Maat:
42,4 cm (16.7")
Maximum afmetingen (B x D x H):
425 x 780 x 309 mm
Afmetingen pallet (B x D x H):
1200 x 1000 x 2300 mm
Gewicht pallet:
428,5 kg
Extra papierladen:
Optional third 500-sheet paper tray
Printkwaliteit (zwart, concept):
600 DPI
Standaard invoercapaciteit voor transparanten:
75
Printkwaliteit (zwart, standaard):
600 DPI
Aanbevolen temperatuur bij gebruik:
15 - 32,5 ?C
Aansluitingen:
1 x USB 2.0
1 x EIO
Formaten afwijkende media:
76 x 127 - 216 x 356 mm
Standaard mediaformaten:
A4, A5, B5 (JIS), letter, legal, executive
Printmarge onder (A4):
5 mm
Printmarge links (A4):
5 mm
Printmarge rechts (A4):
5 mm
Printmarge boven (A4):
5 mm
Lettertypen:
103
Mediagewichten per papierpad:
60 - 200 g/m?; 60 - 120 g/m?
Standaard uitvoercapaciteit voor enveloppen:
10 vel
Minimum systeemeisen voor Macintosh:
Mac OS X v10.2.8, 10.3.9, 10.4.3; 200 MB available hard disk space; USB (compatible with USB 2.0 specifications) port or IEEE 1284-B compliant parallel port; CD-ROM drive
Envelopinvoer:
Nee
Geluidskracht:
6.5 B(A)
Geluidsdruk:
51 dB
Opties voor dubbelzijdig printen:
Manual (driver support provided)
Printsnelheid (zwart, presentatiekwaliteit, A4):
33 ppm
Printkwaliteit (zwart, beste kwaliteit):
1200 x 1200 DPI
Draadloze opties:
Optional, enable via I/O ports with purchase of wireless adapter
Driver-updates ? omschrijving:
Most recent printer drivers and software for all supported operating systems available at http://www.hp.com/support/LJP3005
Verwerking van uitvoer:
Sheetfed
Geheugentechnologie:
Memory Enhancement technology (MEt)
Bedieningspaneel:
Graphical display with up to 2 lines of text; Help button to provide information about the message on the display; Back button to back up in menus or exit menus; Pause/Resume button to pause and resume printing; Up Arrow button to navigate to previous ite
Maximaal aantal papierladen:
3
Mediaformaten (lade 2):
A4, A5, B5 (JIS), letter, legal, executive
Mediaformaten (lade 3):
A4, A5, B5 (JIS), letter, legal, executive
Mediatype en capaciteit, lade 2:
500
Mediatype en capaciteit, lade 3:
500
Mediagewicht lade 2:
60 - 120 g/m?
Mediagewicht, lade 3:
60 - 120 g/m?
Papierverwerking optioneel/invoer:
Optional third 500-sheet paper tray
Papierverwerking standaard/invoer:
100-sheet multi-purpose tray, 500-sheet input tray
Papierverwerking standaard/uitvoer:
250-sheet output bin, 100-sheet rear output bin
Stroomverbruik (indien actief):
600 W
Beveiligingsbeheer:
Advanced security: SNMPv3, SSL/TLS (HTTPS), 802.1X Authentication (EAP-PEAP, EAP-TLS), IPsec (requires Jetdirect 635n)
Afmetingen verpakking (B x D x H):
600,2 x 496,1 x 430 mm (23.6 x 19.5 x 16.9")
Afmetingen (std.) pallet (H x B x D):
1201,4 x 1000,8 x 2301,2 mm (47.3 x 39.4 x 90.6")
Gewicht pallet:
427,6 kg (942.7 lbs)
Gewicht:
Without toner cartridge
35.7 lb
Geluidsdruk omstander (tijdens printen):
51 dB(A)
Duplex bindende:
Nee
Eerste pagina verschijnt, monochroom (A4, standby):
As fast as 9.5 sec
Eerste pagina verschijnt, monochroom (kwarto, standby):
As fast as 9.5 sec
Eerste pagina verschijnt, monochroom (kwarto, slaapstand):
As fast as 9.5 sec
Maximale afdrukbare gebied:
207.4 x 347.1
Ondersteunde mediaformaten:
Letter, legal, executive, 8.5 x 13 in, envelopes
Hoogte, in bedrijf (brits/amerikaans):
10000 ft
Gewicht met verpakking:
44.6 lb
Printsnelheid zwart (presentatie, kwarto):
Up to 35 ppm
Printsnelheid (zwart, beste kwaliteit, tabloid):
Up to 35 ppm
Printsnelheid (grijstinten, normale kwaliteit, A4 transparantie):
Up to 35 ppm
Standaard invoercapaciteit voor enveloppen:
Up to 10 envelopes
Akoestische emissie (gereed):
Inaudible
Akoestische druk uitstoot omstanders (standby):
Inaudible
Eerste pagina verschijnt (zwart / wit, schrijven, warme stroom):
As fast as 9.5 sec
Maximum invoercapaciteit (lade 1):
Sheets: 100
Maximum invoercapaciteit (lade 2):
Sheets: 500
Maximum invoercapaciteit (lade 3):
Sheets: 500
SureSupply type verbinding:
Direct and Network
SureSupply softwaredriver:
Nee
SureSupply ondersteuning:
Ja
TEC (Typical Electricity Consumption) nummer:
2.642 kWh/Week
UNSPSC-code:
43212105

Uitgebreide omschrijving

Details

The HP LaserJet P3005n a sleek laser printer ideal with an integrated print server allows your new printer to effectively communicate with the network and print from any terminal on the network. Helps improve productivity with print speeds of up to 35 ppm with Instant-on Technology delivering a fast first page. A fast 400MHz processor and up to 80 MB RAM standard memory lets you handle complex jobs with ease. Using advanced printing technology and HP toner, this HP LaserJet delivers true 1200 dpi quality for crisp black text, clear details, and fine lines. It also offers Hi-Speed USB 2.0 connectivity for data transmission speeds of up to 480 mbps and HP Web Jetadmin for remotely managing all network peripherals.

Connectivity: Parallel, Hi-Speed USB, Ethernet 10/100Base-TX & One EIO slot.
Two 500-sheet input trays for a 1,100-sheet input capacity.
One-door access to the easy-to-install print cartridge.